Who was Kisho Kurokawa?
Kisho Kurokawa was a leading Japanese architect and one of the founding members of the Metabolist Movement. He had two children, Kako and Mikio. He was married to Ayako Wakao, who was once one of Japan's leading actresses. Not only was he an architect, but he was known for his views on philosophy, after writing several books on the subject.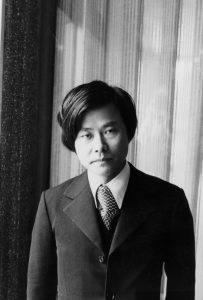 Early life
Kisho Kurokawa was born on April 8th, 1934, in Kanie, Japan. Kurokawa was the son of a respected Japanese architect, Miki Kurokawa. He was educated by Monks at Tokai middle school, and under their teachings, his philosophy of symbiosis (any relationship or interaction between two dissimilar organisms) began to form. The information gained from his understanding of symbiosis would influence his architectural designs in later life.
University education
Kurokawa studied at both Kyoto University and Tokyo University School of Architecture. Whilst at Kyoto University, he learned about architectural history and art. He earned his doctorate in Tokyo, in 1964.
Whilst at university, he met the other co-founding members of the Metabolist movement. The founding members included:  Kiyonori Kikutake, Fumihiko Maki, and critic, Noboru Kawazoe. The group were all influenced by their mentor Kenzo Tange, another leading architect in Japan, known for combining Japanese styles with modern designs.
Kurokawa's influences
As previously mentioned, Kurokawa was influenced by symbiosis. Within architecture, it refers to the relationship between an existing building and a new intervention. This allows one of the symbionts to draw benefits from the relationship. Symbiosis architecture is a design principle that repurposes an old building. The form of the building stays intact, whilst new elements are introduced.
Metabolist movement
Metabolism was a radical movement originating in Japan, and influential throughout the 1960s due to advancing technology. Based on the word metabolism, the process of maintaining living cells, young Japanese architects used this word to describe their beliefs. They believed buildings and cities should be designed as living beings, as the buildings were not thought to be static entities.
The design is based around a spine-like infrastructure, with prefabricated, replaceable removable parts. By having the removable parts, it meant the infrastructure could 'regrow' much like cells in the human body and extend the lifespan of the buildings. The best way to describe any metabolism building is a megastructure, due to its vast size and volume.
Osaka Expo 1970
The world's fair known as Expo '70 took place in Suita, Japan's Osaka Prefecture, between March and September 1970. Buildings for the future were constructed by 77 nations around the world with the theme "Progress and Harmony for Mankind." The purpose of the event was to showcase innovative, promising technology that could lead to global peace and stability. This was the first time Japan had hosted a global fair. One of the 12 architects who worked on creating the Expo was Kurokawa. Here, the Metabolist collective experimented with concepts related to the future, technology, and organic growth. It was rated a complete success with 64 million attendees, allowing other countries to exhibit their concepts for their future vision.
Kisho Kurokawa Projects
Kurokawa has built some exceptional infrastructure during his years as an architect.
Sony Tower, Osaka (which was demolished in 2017)
Nakagin Capsule Tower, Shimbashi
Hiroshima City Museum of Contemporary Art, Hiroshima
Kuala Lumpur International Airport, Sepang
Oita Stadium, Oita (used for the Football World Cup in 2002)
Hotel Marinela, Sofia
The Nakagin Capsule Tower
Located in Shimbashi, Tokyo, this iconic tower was a mixed-used apartment and office block. Work commenced on the building in 1970 and was completed in 1972. In April this year (2022) demolition began, and some of the individual capsules may be preserved or recycled. This was one of Kurokawa's most influential architectural projects and a prime example of the Metabolism movement. The concept behind the tower was to attract single businessmen (also known as Salary Men in Japan), who were looking for a compact and conveniently located apartment.
Nakagin Capsule Tower was bought by Kurokawa's son, Mikio, who tried crowdfunding to raise money for some much-needed repairs on the tower. Unfortunately, due to lack of funding, demolition was the only option for Nakagin Capsule Tower. As the tower was designed to be repaired or replaced every 25 years, it fell into disarray and the building began to deteriorate.
Here is a video of the tower being demolished.
Influencing Japan's Capsule Hotels
After the construction of Nakagin Capsule Tower, the first capsule hotel was built in 1979 by Kurokawa and was based in Osaka. In modern times, capsule hotels are a staple of the Japanese economy. They are a cheap hotel alternative for tourists on a budget and salary men, who use the pods to sleep for a few hours before or after work. They are based on the same design and principles as the Nakagin Capsule Tower, without the sustainability of being reused or repurposed into new buildings.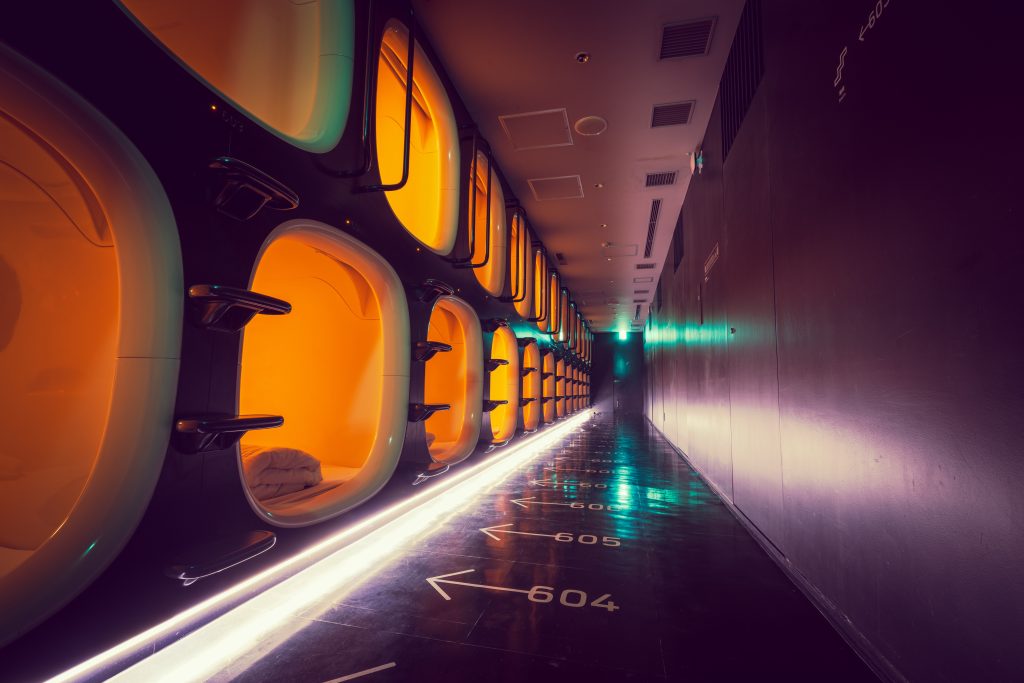 Awards won by Kurokawa
Throughout Kurokawa's years, he won many awards. Some of these awards included:
Richard Neutra Award, for California State Polytechnic University (1998)
48th Art Academy Award, the highest award for artists and architects in Japan (1992)
International Architectural Award, for the Chicago Athenaeum Museum (1996)
Walpole Medal of Excellence (2005)
Sustainability in Architecture
Kisho Kurokawa had always practiced sustainability and was considered an eco-minded architect, but in his later years, he became more adamant about environmental policies.
In 2007, he ran for Governor of Tokyo, and he tried for a seat in the House of Councilors during the 2007 election. He was unsuccessful in both campaigns but managed to establish the Green Party to help provide environmental protection in Japan.
Kurokawa also created the Anaheim University Kiso Kurokawa Green Institute, which helps to develop environmentally conscious business practices throughout Japan.
Kisho Kurokawa's Death
Kurokawa died of heart failure on October 12th, 2007, he was 73 at the time. His legacy lives on through his wife, daughter and son.
How could Powers support Kisho Kurokawa?
Powers' values of being environmentally sustainable closely align with Kurokawa's environmental ethics. Working on Kurokawa's projects would be something we as a team would have relished.
If Nakagin's capsules had been removed to redevelop or update, Powers would have made sure the new pods were positioned accurately within the space allocated so that all services to the pod were exactly aligned and functioning correctly. We're always up for a challenge, like calculating intricate measurements on the spot while modular rooms are hanging in place waiting to be installed.
The Powers team have recently supported a UK firm, in creating a modular constructed hotel in the heart of Chester, read the case study to learn more.
Working on a sustainable project or a modular building that could benefit from the expertise and exceptional skills of the Powers team? Call 01928 734473 or send an email to surveyors@powersuk.com to get in touch.
Main image source: Arquitecturaviva