About Sir David Adjaye
Sir David Adjaye was born in Tanzania in 1966. He studied at the London South Bank University and the Royal College of Art, and he is a registered architect in the United Kingdom, Ghana, and the United States. In 2000, he founded his own architecture firm, Adjaye Associates.
The Distinctive Look of David Adjaye's Buildings
David Adjaye is a world-renowned architect whose work is characterised by his bold geometry and innovative use of materials. His buildings often take inspiration from the surrounding environment, and his particular interest in African American culture and history. In many cases, the buildings are designed to blend in with their natural surroundings. As Adjaye explained in an interview with Dezeen Magazine, "My work has always tried to maneuver between two positions – one is a very straight use of Modernist principles where you have functionality and clarity as the mainstay of the design… The other is this notion that we should be creating personalised experiences within architecture."
One of the most distinctive features of Adjaye's buildings is his use of colour. He often incorporates bright hues into his designs, as seen in the National Museum of African American History and Culture (NMAAHC) in Washington, D.C. The museum's exterior is covered in a façade of bronze-coloured aluminium panels, which were specifically chosen to relate to the skin tones of the people who would be visiting the museum.
Adjaye is also known for his use of raw materials, such as concrete and wood. He often leaves these materials unfinished, allowing them to retain their natural texture. This creates a sense of authenticity and honesty that is often lacking in contemporary architecture.
Themes and Inspirations in David Adjaye's Architecture style
Adjaye's work is heavily influenced by his background and cultural heritage. He was born in Tanzania to Ghanaian parents, and he has said that his identity is very much intertwined with Africa. His interest in African American culture is also evident in many of his buildings, such as the NMAAHC and the Issue Project Room in Brooklyn, New York.
Adjaye has spoken about how growing up in Tanzania shaped his approach to architecture: "In Tanzania, there were these amazing patterns everywhere – in the baskets that were used to collect food, in the way that people wove matting to make sleeping areas comfortable." These experiences have informed Adjaye's use of pattern and colour.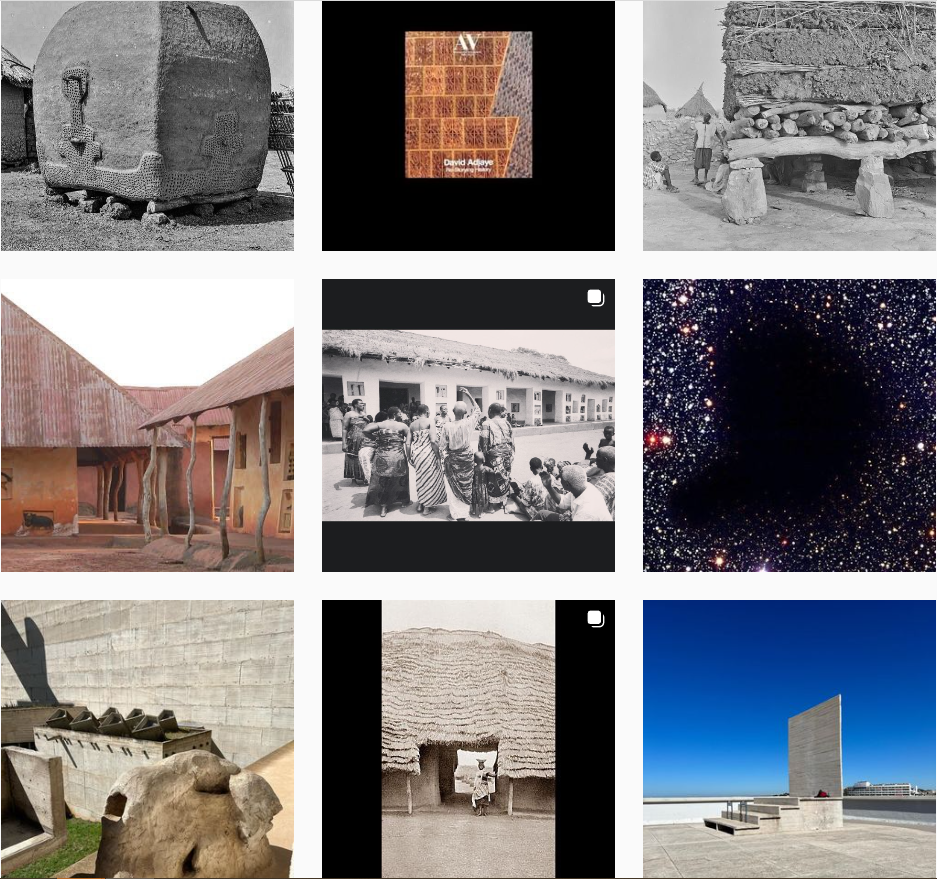 Accessible building designs
Adjaye first saw the flawed design of buildings when his family cared for his younger brother, who had become paralysed as a child. He thinks practical design is frequently much more significant than aesthetic design.
Adjaye firmly believes architecture is the physical expression of social change. Architecture can be used as a powerful social force that makes good and one that strengthens communities.
David Adjaye's Building Process
Adjaye begins each project by immersing himself in the local culture and community. He spends time talking to residents and learning about the area's history, before starting work on the design. By doing this it allows him to create buildings that are specific to their location and that respond to the needs of those who will be using them.
In an interview with The Telegraph, Adjaye described his approach to design: "With every project, I start from scratch… every time I try and enter into the same amount of research so that I can really understand what it is I need to do." This rigorous process has resulted in some truly unique buildings that have earned Adjaye international acclaim.
Notable Buildings by David Adjaye
Adjaye's most notable buildings include:
Smithsonian National Museum of African American History and Culture (NMAAHC), Washington, D.C. The Museum was opened by then-President Barack Obama. The museum recognises the centuries-long struggle for the importance of the black community in the fabric of American Life. It houses galleries, theatre space and collection storage.
Oscarsborg Fortress Hotel & Spa, Norway: The hotel is located on an island fortress that was once used to defend Oslo from invaders. The modern building blends in with its historic surroundings while providing visitors with stunning views of the fiord below.
UK Holocaust Memorial & Learning Centre, London: located next to the Houses of Parliament, the memorial honours the six million Jewish people who were murdered in the Holocaust and all other victims of the Nazi persecution. Adjaye Associates worked alongside Ron Arad Architects and Gustafson Porter + Bowman.
Stephen Lawrence Centre, London: created in the memory of Stephen Lawrence, who was wrongfully murdered for the colour of his skin. Before his untimely death, Lawrence wanted to become an architect. The centre aids in the mentoring of young people in the area, who might be struggling to develop their skills and better themselves. You can read more in our article here.

David Adjaye furniture design
Adjaye is known for his architecture, but he is also a major influence behind some luxurious furniture items. He has collaborated with furniture designers: Knoll and Moroso. His collection with Knoll is referred to as the Washington Skeleton and Skin chairs and the Moroso design is the Double-Zero chair. Both designs are vastly different from each other in design but completely modern in aesthetics.
The idea behind the Washington Skeleton and Skin Chairs was designed to mimic the form of a person being seated in elevation, meaning the chair disappears when in use. Whilst the skeleton is hollow and skeletal in appearance, the skin is full, creating a positive and negative version of the same shape.
The double-zero chairs came about from the design process behind the Aïshti Foundation, Beirut. Adjaye wanted to create furniture which didn't look like production furniture, but one which complemented the building and felt like part of the architecture. Adjaye was commissioned to design a whiskey bottle. The bottle design is based on the shape of a diamond and was handblown by Glencairn Crystal Studio. The bottle was in celebration of Gordon & MacPhail's 80th birthday. Only 250 bottles were created, and it has a retail price of £89,950. Adjaye believes his experience designing buildings helped him with the creation of the bottle and case. He is quoted as saying, "Just like in architecture, the provocation here is to think beyond form."
Sir David Adjaye's awards
Adjaye has been named the winner of a variety of prestigious architecture and people awards which include:
Le Prix Charlotte Perriand prize from the Créateurs Design Association & Awards
RIBA Royal Gold Medal
TIME Impact award
World Economic Forum's 27th Annual Crystal Award
New York Live Arts Honouree
Washington University International Humanities Medal
Thomas Jefferson Memorial Award
TIME Magazine's 100 Most Influential People
How could Powers support David Adjaye?
We would love to work with Adjaye to create furniture, but for now, we'll limit our assistance to topographical or measured building surveys, as both would be useful to Adjaye in the planning and design stages of any of his structures.
As many of his works are based around local communities and designing structures that serve as spaces for people to connect, heal, and embrace the history of the area, this is a societal value that we can support. We would be happy to help Adjaye or any other architectural firms that design structures with people and the community in mind.
Given that Adjaye has worked on projects that serve the community, his designs may fall within the category of Voluntary, Community and Social Enterprise (VCSEs), to which we donate our time and services. One project we supported was Maggie's Centre, Wirral. For those receiving cancer treatment, Maggie's Centre serves as a home away from home. We provided them with a topographic survey of the area. Check out our case study for additional information.
Are you working on a VCSE project or designing a place so that people can come together that would benefit from our outstanding measurement skills and expertise? Call 01928 734473 or send an email to surveyors@powersuk.com to get a free quote.