Who was Zaha Hadid?
Zaha Hadid was a British-Iraqi architect, artist, and designer. She was a rare woman in a male-dominated industry, known for her curving facades, sharp angles, and use of severe materials, such as concrete and steel.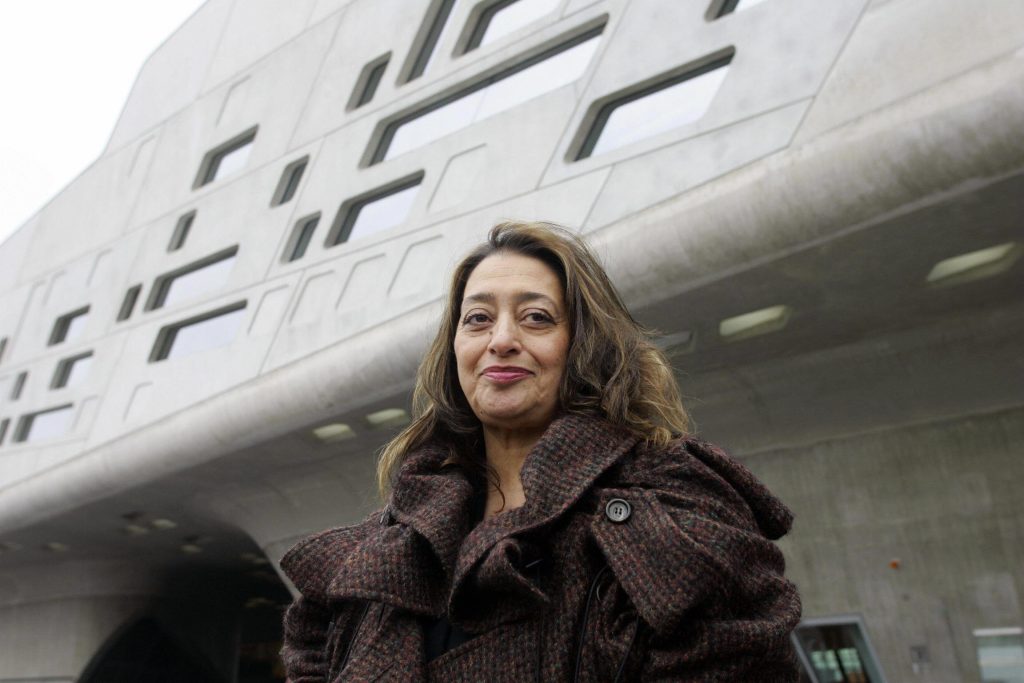 Zaha Hadid's Childhood
Born on 31st October 1950 in Baghdad, Iraq, she grew up in a period of prosperity, which saw the Iraqi Government invest in modernising the architecture of Baghdad. She came from a prosperous family, her father, Muhammad al-Hajj Husayn Hadid was a wealthy industrialist and politician, whilst her mother Wajiha al-Sabunji was an artist.
Her family believed she would go on to do great things with her life. Her brother Foulath Hadid said she could have become the first Iraqi astronaut if she wanted to, but her interests always lay elsewhere, with architecture.
Education
Zaha Hadid's formal education came from her time at boarding schools in England and Switzerland. Before heading for further education in architecture, she would travel with her father. On their travels to new cities, they would learn about architecture, which peaked her love and interest in this industry.
Higher Education
Hadid attended the American University in Beirut, Lebanon. It was here she gained a bachelor's degree in mathematics.
In 1972, her studies continued at the Architectural Association in London. She studied under Rem Koolhaas, Elia Zenghelis and Bernard Tschumi. They recognised her talent, praising her for being able to see the bigger picture.
Malevich's Tektonik
During her fourth and final year, Hadid created a concept and design for a fourteen-level hotel located on the Hungerford Bridge, on the River Thames. This design was based on paintings and theories from Polish-Ukrainian Russian avant-garde artist, Kazimir Malevich. The design was named after Malevich, as it was based on his art. This, however, was merely a concept and never came to fruition.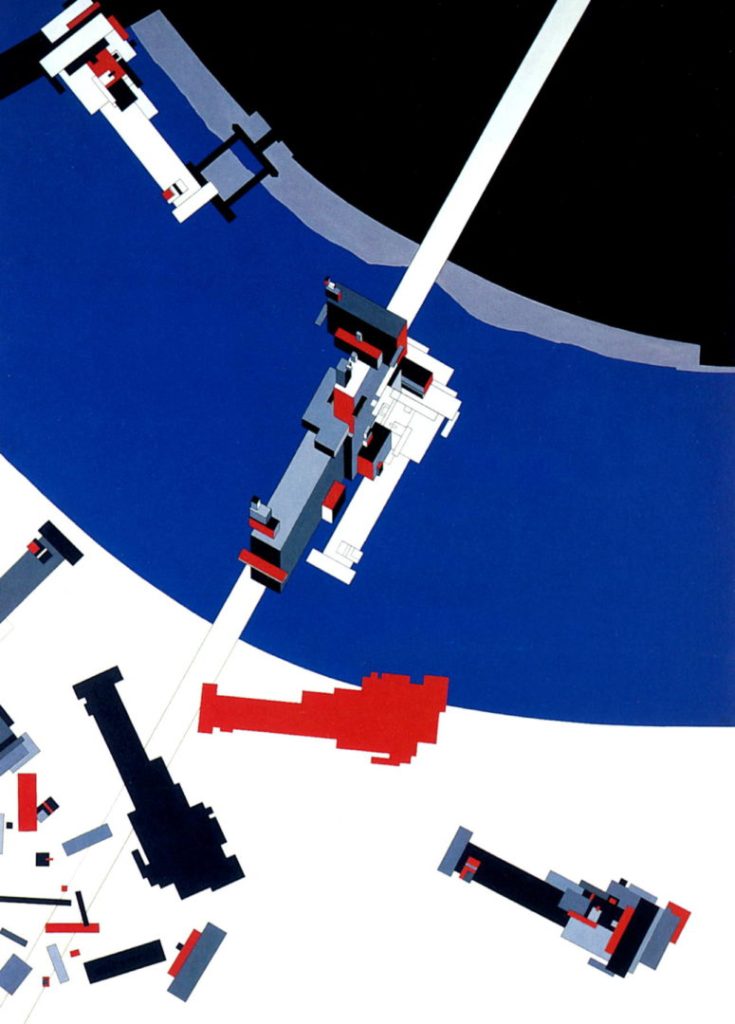 Artist influences and movements
Much of Hadid's influence came from her passion for deconstructivism and parametricism (an architectural style based on computer technology and algorithms). But her real design aesthetic came from her love of Kazimir Malevich.
Malevich was an artist known for his Suprematism concepts, which is a form of expression that moved as far as possible from the world of natural forms and subject matter to access 'the supremacy of pure feeling'. The Suprematism movement focuses on the fundamentals of geometry, such as circles, squares, and rectangles. These geometric shapes are painted in a limited range of colours.
Suprematism can clearly be seen in Hadid's designs and physical structures.
Vitra Fire Station, Weil-am-Rhein, Germany
Built between 1990 – 1993, Vitra Fire Station was Hadid's first major project. The building is meant to resemble a bird in flight, with a sharp-angled form that looks like wings. This structure is made from some of Hadid's iconic building materials, such as concrete blocks and glass.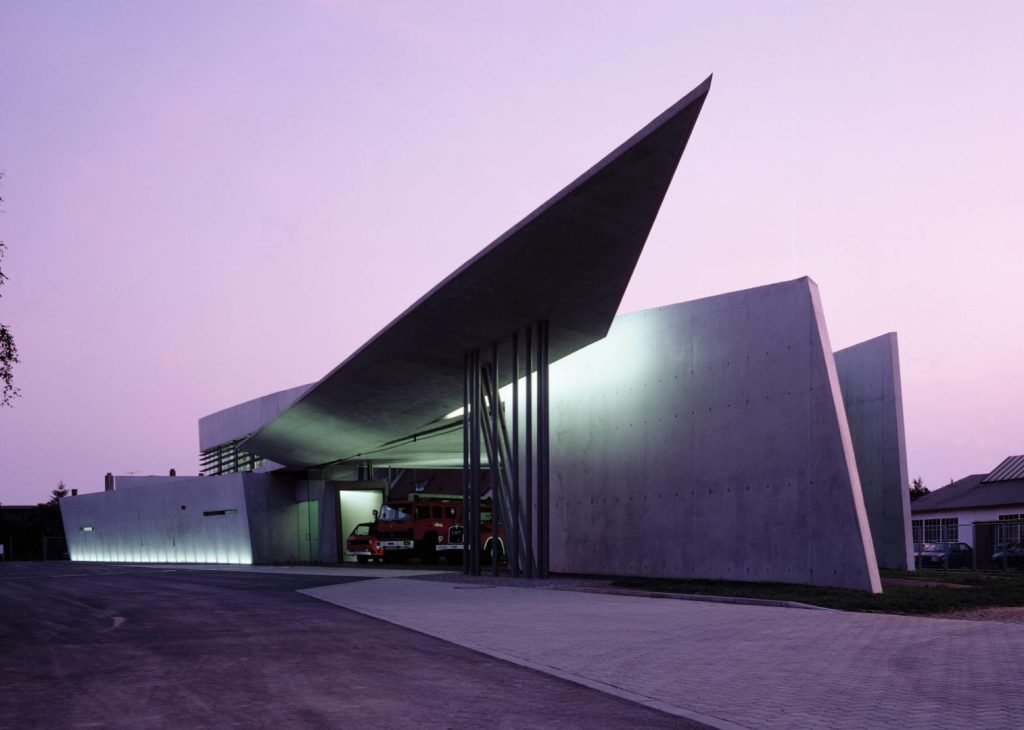 "Paper architect"
During the 80s and 90s, Hadid often created avant-garde designs of existing buildings. Some of the buildings she reimaged included:
The Peak, Hong Kong
Kurfurstendamm, Berlin
Dusseldorf Art and Media Centre
During this time, her designs were considered too radical to be built. The Peak was designed to be deconstructed as a horizontal skyscraper. This turned heads in the architectural world, but not in a good way. Due to designs like these, she became known as a "paper architect". The term "paper architect" is used pejoratively to refer to architects who design utopian, dystopian or fantasy projects which are never built.
What was Hadid's design philosophy?
Hadid affirmed her architectural designs weren't intended as a personal stamp on the world or an act of self-indulgence. Her designs addressed 21st-century challenges and the opportunities they presented.
She believed "…architecture must contribute to society's progress and ultimately to our individual and collective well-being."
Zaha Hadid buildings
Some of her most notable buildings include:
London Aquatics Centre, for the 2012 Olympics
Broad Art Museum
MAXXI Museum, Rome
Guangzhou Opera House
Awards
One of her biggest achievements was being awarded a Royal Gold Medal for architecture. Hadid was the first woman to receive this award in its 167-year-history. Here is a shortlist of her achievements:
Pritzker Prize for services to architecture
RIBA Stirling Prize for MAXXI Museum, Rome, and the Evelyn Grace Academy
Thomas Jefferson Medal in Architecture
RIBA European Award which was awarded to her for the MAXXI Museum
Death
Zaha Hadid died aged 65 years old, on 31st March 2016. She passed from a heart attack whilst being treated for bronchitis at Miami's Mount Sinai Medical Centre. A statement issued by her London-based design studio said: "Zaha Hadid was widely regarded to be the greatest female architect in the world today." She is buried in Brookwood, Surrey, between her father and brother.
More than just an architect
She was also an artist. Just before her untimely death, she was in discussions with curator Hans Ulrich Obrist about exhibiting her paintings and personal sketchbooks. Obrist is quoted as saying: "…they were almost like doodles, but all her buildings seemed to come from the flow of these free sketches…I was amazed and wanted to see more." The exhibition went ahead in 2017 and took place at the Serpentine Gallery. The title of the exhibition was Zaha Hadid: There should Be No End to Experimentation.
Powers and architects
At Powers, we work with architects and construction companies throughout the construction phases of their projects. If we were working with Hadid on one of her projects we would conduct a topographic survey of the land, alongside an underground utility detection survey, to give a clear picture of the ground being worked on. In our team, we have experienced site engineers, who work on construction sites every day. We support the construction of the project by providing setting out for buildings or steel frameworks. Read our case study about our involvement in the building of a modular hotel in the heart of Chester.
What future projects do you have coming up that need specialist-measured surveys?
Contact us by email at surveyors@powersuk.com, by phone at 01928 734473, or by filling in our contact form. We look forward to working on your next project with you.