What's an external elevation?
External elevations are as-built drawings that show the exterior facades of a building. These are done from ground level to the top of a structure. The elevation drawings are made from a 3D point cloud which is converted into a 2D image, that shows no perspective.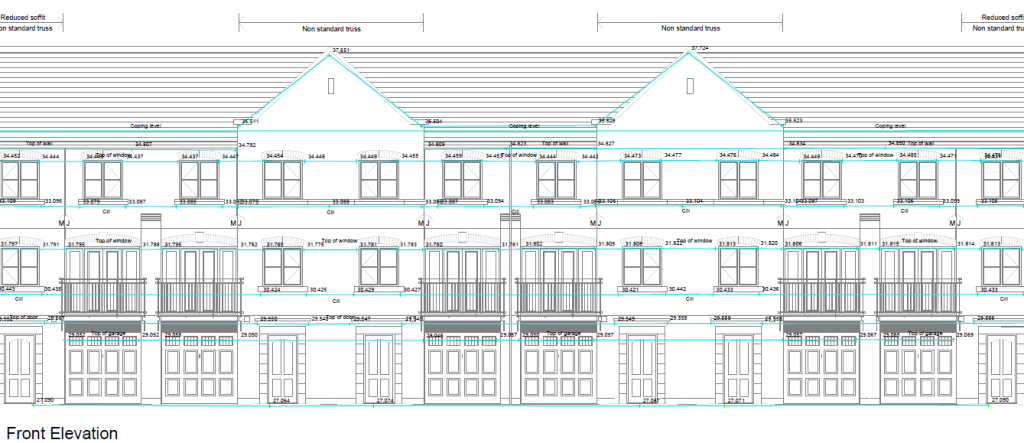 What is shown on an external elevation?
External elevations show architectural elements including:
Window and door measurements, design, size, and position
The building outlines
Roofing
House number (if on the glass)
Vegetation (trees, shrubs, hedges, and grass areas)
Gargoyles and other architectural details
Pipe dimensions
Patterns or materials on the building
Light fixtures
Reservation walls
What is the front elevation of a house?
The front elevation refers to the front side of a house, which includes doors, windows, or a front porch. If a client requests a streetscape, we only provide front elevations. This is due to not being able to gain access to certain buildings that are privately owned. When surveying a private home or building, we're able to create external elevations of each side of the house.
Urban regeneration
At Powers, we've worked with many clients who work in urban regeneration. Our clients often request streetscapes. This is a process where our team create continual external elevations of a series of buildings on a street. Quite often, streetscapes show architects and designers external details of buildings on both sides of a central building to be renovated.
Streetscapes create a more rounded view of the street, compared to some external elevations, which are comprised of one building. Streetscapes allow our clients to visualise the whole street to understand how the redevelopment will look in one transitional drawing. It allows them to create designs that flow from building to building, to see if what they're doing works or if they need to change their design approach.
Having the architectural details and decoration of a building on either side can ensure that architects use the same detailing on any new facades that may be built when renovating a building within a streetscape that has a particular vernacular.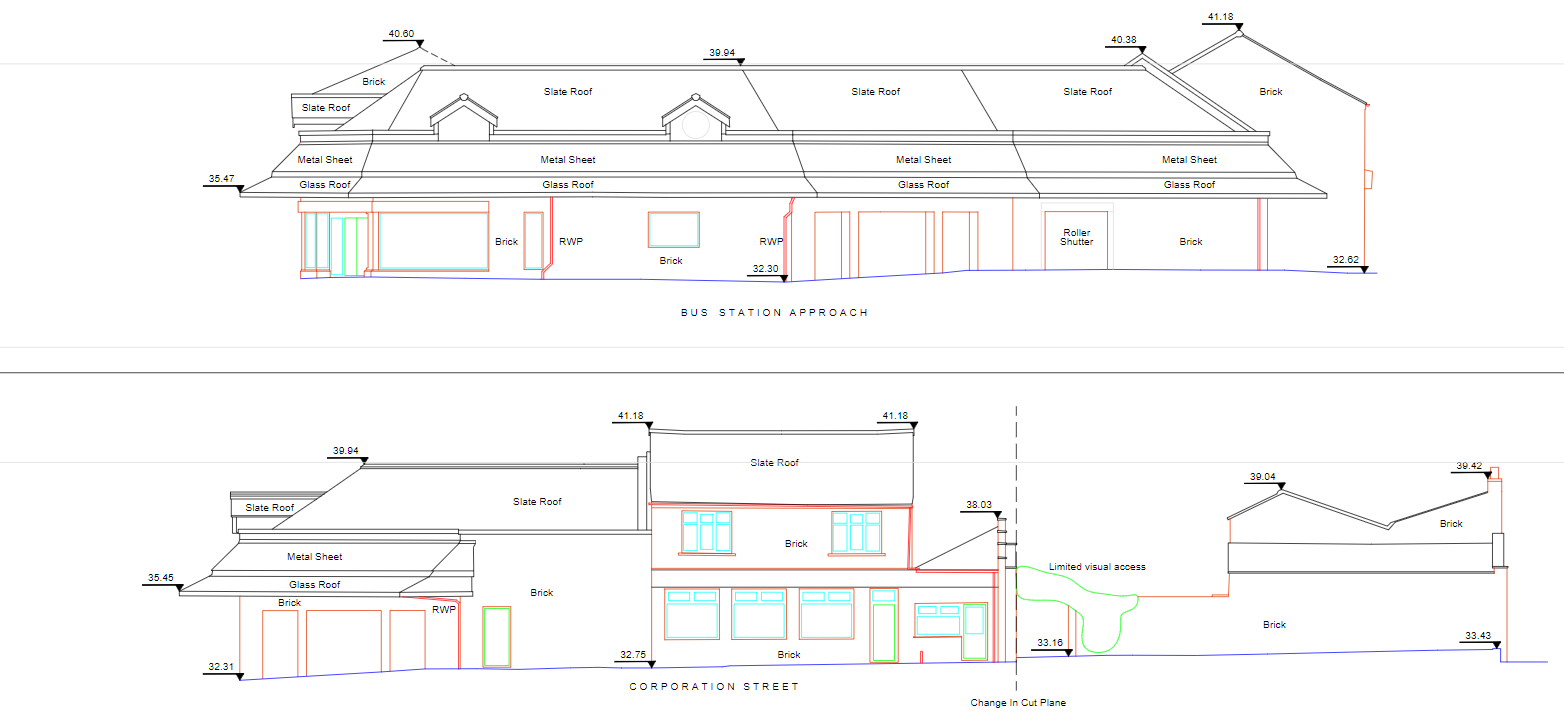 The above elevation drawing is for an architectural client, who is currently working on an urban regeneration project in the North West. These elevation drawings give our clients a clear view of how the external of these buildings look, showing detail they may not have known was there. The elevations also show essential information about building heights, roof heights, windows, and door dimensions, which are all vital to redevelopment
Historic record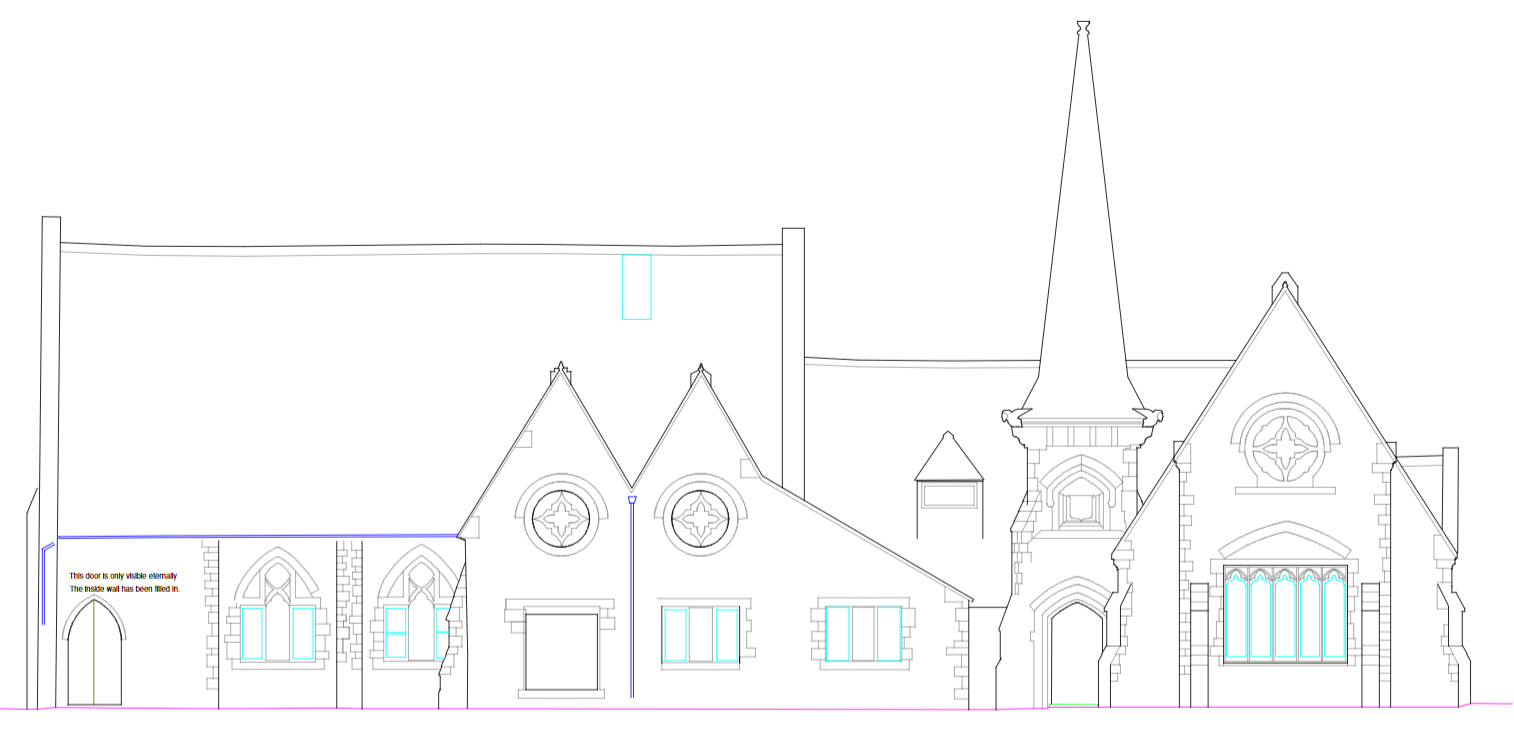 Powers created the above drawing of an external elevation of a church for a client. Churches are great examples of showing just how beneficial internal and external elevations can be. There is a vast amount of detail on the exterior of churches, showing brickwork, stained glass patterns or designs, beams, gargoyles, ledges, and arched doorways.
Each element has a different colour, to indicate what it is. The pink line is to show the ground level, the lighter blue shows the placement of glass panes on the windows and the darker blue is to display the guttering and pipes on the building.
As churches are in continual need of refurbishment, internal and external elevations make for a great way to record what was there and develop buildings to keep them current and fit for purpose for future generations.
Are you in need of a measured building survey with external elevations or a streetscape? Get in touch with us for a quote.