What is a measured building survey?
Measured building surveys are an accurate depiction of a building. These depictions illustrate all the structural elements and architectural features of the building.
A measured building survey can show several different elements:
External elevations show the outside façade of a building. All details are picked up and measured. The details can consist of window positions, guttering and waste stacks to gargoyles and ornate stained glass window roses.
Internal elevations can show the precise measurement of doors, walls, beams, and windows down to sanitary ware and electricity sockets.
A section is an internal split through a room with the specific measurements of anything in that section. This would include the depth and width of a beam, window placements or perhaps how one floor of a building sits above another or how it sits under the structure of the
Floor plans are precisely measured plans of any floor in any building. When a building has been added to continuously over time, the floors are often not level. A floor plan can show any changes in the floor level so that architects and designers can illustrate how they may want to level them out for a smoother flow through the building.
A scanned survey will deliver a 3D point cloud model. Point cloud models show millions of measured points both externally and internally. These can be interrogated by architects, structural engineers, and designers. A 3D model can provide a walkthrough of the building. Architects can then see the 'sections' for themselves as they go through them.
What do measured building surveys produce?
Our measured building surveys provide accurate 2D elevations and sections of a building. We also provide point clouds that can be used to create 3D models. These 2D drawings will show various architectural structural elements, such as walls, beams, columns, light fixtures, door openings, and windows.
All elevations and sections can be delivered in 2D AutoCAD format.
The drawings can be developed into design plans, which gives confidence that the depiction is accurate.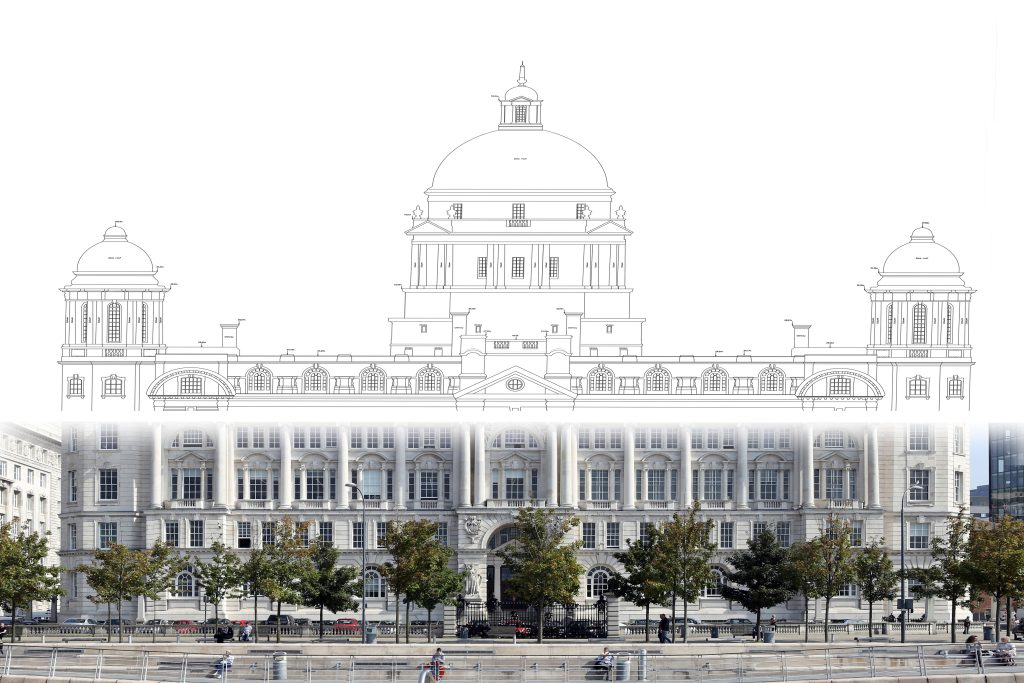 What are they used for?
You would need one if you are planning on renovating or extending a building. Measured building surveys help to verify and record data for historic purposes. Which can support a condition report.
Some or all elements of a measured building survey can help to renew, redesign, and renovate iconic buildings. Bringing these tired and unloved, iconic buildings back to life.
Some of the end uses are:
Internal refurbishment, redevelopment, alterations, or structural changes
Sale, acquisition, letting or land registry
Facilities management or services layout
Interior design layout
Modelling, visualisation
Health & Safety e.g. fire plan
Rights of light, party wall issues
Valuation or taxation
How do you measure a building?
To measure a building, we use laser scanners, and we will endeavour to meet your specific requirements.
Laser scanners use 3D spatial data to form a point cloud, reducing any errors when collecting data. Using laser scanners can reduce the time spent on site, work can be completed in a matter of days.
Who would need a measured building survey?
Measured building surveys aren't used by one specific type of company.
Within the construction process, many people would need this service:
Architects
Construction companies
Private estates
Property Developers
Interior Designers
Private homeowners
How do I get a measured building survey of my project?
Getting your building surveyed is very simple. You can contact us here or by email, surveyors@powersuk.com with a site plan or a Google Earth image. These will need to include a marked-out area, to show the extent of what needs measuring. All information you can give about the site helps us deliver to your exact requirements.
Once we have received your initial email, we will review and send back a fixed price quote. We will also give you an estimated timeline of when work can start once the quote has been accepted.
Measured building survey drawing examples
Pictures speak 1000 words, so instead of telling you how accurate our work is, you can see for yourself.

As this is an internal elevation, it shows all architectural elements, such as the chandeliers, wood panelling, designs on windows, and pillars.
We offer a wealth of experience and wide-ranging expertise. The team take a great interest in measured building surveys, due to the technical and visual impact they make.